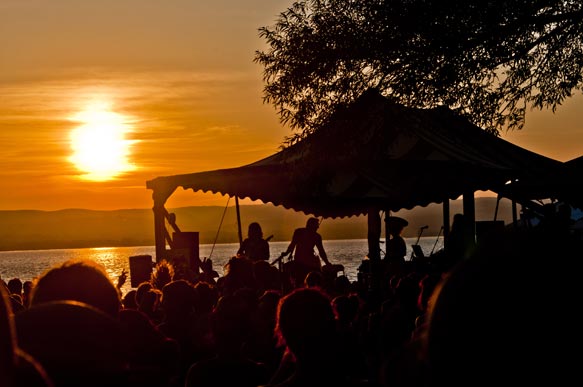 Being a great musician has its benefits. One recent perk was the opportunity to attend the Clearwater Music Festival on June 15, 2013. My comp passes came complete with backstage camping right on the Hudson River. Although the music was certainly great, the visual artist in me always keeps an eye out for opportunities to capture visual beauty. This festival certainly had a bounty of subject matter, most of all its sunset.
Clearwater was blessed with some of the most gorgeous late spring weather the Hudson Valley has seen in years. The crystal clear day with unobstructed 15 mile views up and down the Hudson River resulted in an amazing sunset. This created a stunning backdrop for the band as they performed an eclectic blend of world fusion on Clearwater's Hudson Stage.
Since I was mostly attending the concert as a spectator I brought a bare bones camera rig with me. I only came prepared with a Nikon D90 and a Nikor 18-105 3.5 lens as well as a 28-300 mm Sigma Lens. Fortunately the evening sky was perfectly lit and didn't need much assistance from me in creating a dynamic concert image. I particularly like the way the audience's hair glistens in the rays of summer sunlight. It creates a great example of graphic closure for the silouhetted foreground.
The series of photos taken could be suitable for advertising campaigns in the following concepts and industries:
Summer
Concert Promotions (Tickets, Posters, Flyers)
Entertainment Industry
Album Covers
Alcoholic Beverages
Youthful Lifestyle
Click here to view, or purchase more examples from this series of photographs.
Tags: Album Covers, Clearwater, Concert, Festival, Flyers, graphic, Hudson River, Lens, Lifestyle, Music, Nikon, Nikor, photography, Posters, Sigma, silouhetted, Spectator, Summer, Sunset, Tickets
This entry was posted by Art Director on Wednesday, July 3rd, 2013 at 2:30 am and is filed under
Memoir
,
Photography
. You can follow any responses to this entry through the
RSS 2.0
feed. You can
leave a response
, or
trackback
from your own site.