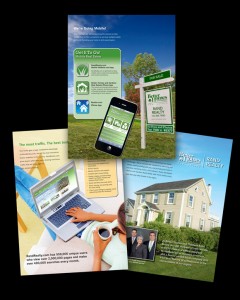 One of the core pieces of marketing collateral for any real estate brokerage is the listing presentation brochure. The listing presentation brochure is what real estate agents show to perspective home sellers when they are attempting to gain a signed listing contract. Most major real estate brokerages have a listing presentation of some sort. It helps to ensure that agents have a definite brand message to convey on what sets their services apart from the competition.
The importance of this piece of marketing collateral can not be overstated. The listing presentation in essence becomes a real estate brokerage's brand standard guideline. Therefore a great deal of planning and consideration goes into one of these projects. I had the fortunate experience of working on Better Homes and Garden Rand Realty's listing presentation brochure.
The brochure is sized at 9 inches by 12 inches and is saddle stitched into a pocket folder with business card slits. The pockets are useful for real estate agents so they can neatly include market analysis, letters of recommendation and other persuasive material in the presentation. Rand Realty uses a vertical business card so the pockets of the folder actually needed to be somewhat larger than a standard pocket folder. Therefore, a custom die needed to be created for this project.
This entry was posted by ezombie on Wednesday, August 28th, 2013 at 11:40 pm and is filed under
Brochures
. You can follow any responses to this entry through the
RSS 2.0
feed. You can
leave a response
, or
trackback
from your own site.