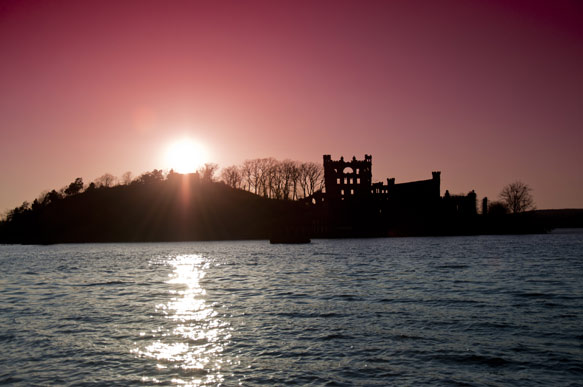 Most people living in the Hudson Valley are familiar with the majestic treasure of Bannerman's Castle. This romanticized castle sits on Pollepel Island in the Hudson River a bit North of Cold Spring, New York. It was built by Francis Bannerman VI between 1901 and 1918 when he died. Following his death the structure withstood damage when 200 tons of ordinance stored nearby exploded in 1920. A subsequent fire destroyed the buildings, non-structural walls, roof and floors. In December of 2009 almost half of the castle's front and east facing walls crumbled following a major wind storm.
I decided to take the time to stroll over to the Eastern shore of the Hudson on an unseasonably warm March evening in 2012 in an effort to capture the scene with my camera. Did I ever pick the right night to do it too.
The sun was setting directly over Pollepel Island's hill framing the castle as a perfect black silhouette. The sun's reflection also glistened in the Hudson River creating a seriously powerful image. Although the timing and location of the sun was perfect, the extremely clear sky left a little to be desired in terms of color and background. So I opted to use a red graduated filter in the above example to create a very powerful effect. I toyed around with other filters as well to create some very unique effects.
The photo could be used in advertising and marketing for the following concepts industries:
Summer
Evening
Strength
Romance
History
Guidance
Faith
Financial
Tourism
If you have never viewed Bannerman's Castle, you shouldn't wait to long the structure is deteriorating at a rapid rate. Fortunately, I managed to preserve Bannerman's majesty for future generations with photography. You can view the full series in the stock photography portion of this website by clicking the following link https://www.ortnergraphics.com/stock-photography